NEW MOBILE RESPONSIVE WEBSITE FOR A NEW YEAR
RELAUNCH OF WEBSITE AND NEW BRANDING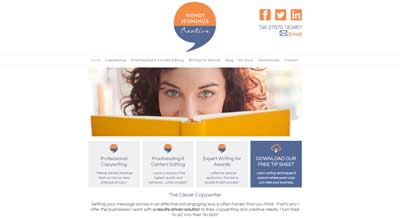 We were approached by Wendy Jennings Creative towards the end of 2016 to quote for a new website. The customer was looking for a reliable and secure platform and a level of support with the website that would allow her to concentrate on her own business. She was also rebranding and the launch of the new website needed to be timed to coincide.
The client was impressed with our offering, particularly with regard to the security of our software and the ongoing support we provide and we were delighted to be appointed.
For cost effective, reliable website services that leave you to do what you do best – run your business – please contact us today and we will be delighted to help you.

 Subscribe in a reader